Who is LA Lighting
Los Angeles Lighting Manufacturing Company was established in 1988 and remains family owned. Knowing the current climate at the time of establishment, Bill knew that he would have to differentiate LA Lighting from the rest of the competition.
30 years later this same philosophy is still the core of the business model. LA Lighting sets itself on doing what others cannot. Offering fixtures for custom request, providing solutions for the impossible requests, while  building products right here in the U.S.A.
Why Offer LA Lighting Fixtures?
All of LA Lighting products are Designed and Manufactured in Los Angeles. Always with an eye to the future and a hand in the here and now, "Quality, Innovation, and Reliability" best describes the LA Lighting team's agenda. With design, development, sales and manufacturing under one roof, our vertically integrated manufacturing facility gives us control to manufacture any standard, custom, or modified order with complete control over quality, production schedules and shipping. Your non-standard need is our standard product.
DESIGN, DEVELOP, DELIVER… IT'S JUST THAT SIMPLE!
We Incorporate the Highest Quality
State-of-the-Art components from Top Tier Vendors.
Superior products are born from superior components. From the global leaders such as Philips, Samsung, ULT, Osram-Sylvania comes product that is second to none in performance and sustainability. Partnering with names like Lutron, Leviton, EnOcean, and Wattstopper can only mean one thing…
THE BEST OF THE BEST IS BUILT INTO EVERYTHING WE DO!
Our LED Luminaires are 100% Tested before Shipping.
In many manufacturing arenas a quality sampling of less than 3% with a 10% failure rate is acceptable. NOT at LA Lighting. We test each and every LED fixture resulting in an industry leading 99.97% reliability rate.
YOUR CONFIDENCE IS OUR CROWN!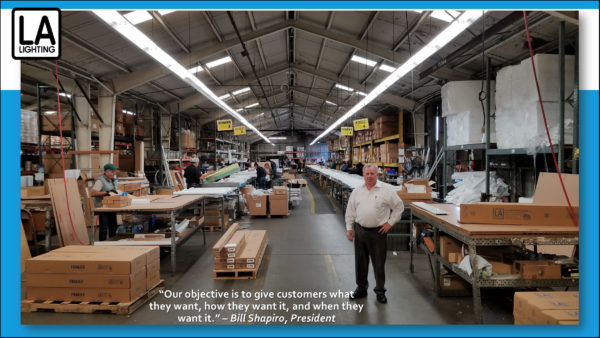 "When you call L.A. Lighting, you are talking to the factory."
Often Envied, Rarely Duplicated!
From simple questions to the most technical information, our
interactive Sales Service professionals are ready, willing and more
than able to bring you the same high level of quality in Customer
Service as we do in our finished products. Open & easy
communication is the hallmark of L.A. Lighting's 30 years filling the
needs of our customers.